Kamikaze Tackle is a Normal Move Card.
Statistics
Arcade Stats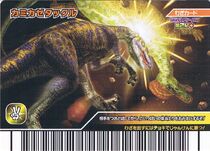 Names:

English: カミカゼタックル
Taiwanese: 神風衝擊

Attribute: Normal
Sign: Scissors
Compatibility Tabs: 1-2 (great), 3-6 (okay)
Usage Condition: You have to win at Scissors to use this Move, and your Dinosaur should ideally have over 200 Technique.
Effect: Throw your opponent in the air, and when they come down, charge forward and slam them in the back, sending them crashing into a big rock!
Japanese
English
Taiwanese
TCG Stats
Attribute: Normal
Sign: None
Card Rarity: Common (DKCG), Silver Rare (SAS)
Image From (DKCG): 06 3rd/S1 1st arcade card
Image From (SAS): 06 5th/S1 3rd arcade card
+900; Even if you win this battle, your Dinosaur is sent to your discard pile and you lose Life Points equal to its life.
Trivia
It was one of the first set of 15 Normal Moves released in the arcade game.
In the arcade game, a Dinosaur needs 200-500 Technique to use it to full effect, thereby indicating those with 1800-2000 Power. Those with more Technique will actually get less effect from it.
Like most Moves in the arcade, it is impossible to recreate in real life as one would have to have enough strength to throw the opponent to such a height and time the impact exactly. Also, the force of the impact could cause a broken neck to the attacking dinosaur.
Artwork from one of its various arcade cards is also seen on the TCG Move Card Knockout Blast (07 1st/1st+, DKDS version).
Gallery