This dinosaur was previously known as "Titanosaurus colberti", which it is called in some media. You may be looking for Titanosaurus.
For the anime's minor character dinosaur of this species, see Genie.
It was formerly a species of Titanosaurus (T. colberti) before that genus's type species was labeled nondiagnostic; of the species at the time, T. colberti was the best known by science, and was renamed into Isisaurus.
General Statistics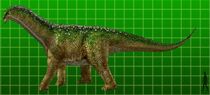 Dinosaur King Statistics
Arcade Stats
It was only available in the Japanese and Taiwanese versions, but its Taiwanese card can be used in the English version.
Anime Stats
Main article: Genie
DS Stats
TCG Stats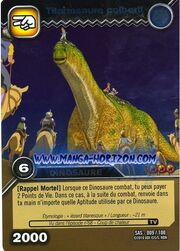 [Mortal Recall] When this Dinosaur battles, you can pay 2 Life Points. If you do, after the battle, return to your hand any Move this Dinosaur has used.
Trivia
Gallery