Irritator's name comes from the irritation scientists felt when they realized that the original skull had been doctored with plaster to be elongated for a higher commercial value. Some reconstructions show Irritator with a crest on its nose instead of its head.
General Statistics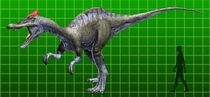 Dinosaur King Statistics
Arcade Stats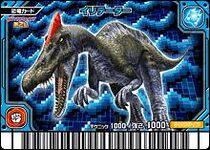 TCG Stats
Irritator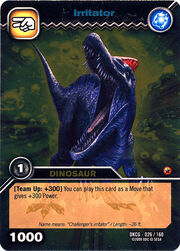 [Team Up: +300]

You can play this card as a Move that gives +300 Power.
Pouncing Irritator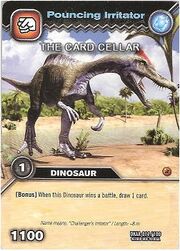 [Bonus]

When this Dinosaur wins a battle, draw 1 card.
Rapid Irritator
[Water Ally]

If you have another Water Dinosaur in play when you Dino Slash this Dinosaur from your hand, you can discard 1 card and then draw 1 card.
Manga
In the arcade website's Four-Frame Manga, Seth had Irritator use Life Swap on Zander and Ed, who had through shenanigans reversed their fat/skinny dynamic; the result removed Zander's extra fat, but sent it to Irritator instead of Ed.
In the actual manga's storyline, Ed gives the new Alpha Gang recruit, Rex, an Irritator to fight Max. However, Rex had only joined to save Max, so he and Max took the Irritator and escaped. Later, the Irritator started to talk and was later known as Benjamin.
Trivia
Gallery