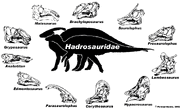 The Hadrosaurid family consists of the 'duckbilled' dinosaurs. They evolved from the iguanodontid "family". There are two main groups of hadrosaurs: there are the crested lambeosaurines (Parasaurolophus, Corythosaurus); and there are the crestless and solid-crested saurolophines (Edmontosaurus, Maiasaura). Historically, many species of hadrosaurs have been named from stray toe bones or teeth, leading to a long history of species being "shuffled" between different genera and in and out of validity. Many "classic" hadrosaurs are now considered to be dubious or invalid.
Most Grass Dinosaurs are from this group.
Community content is available under
CC-BY-SA
unless otherwise noted.