Green Impulse is a Grass Move Card.
Statistics
Arcade Stats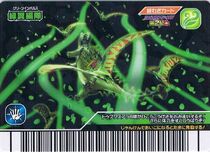 It is the Tie-attack Move for Grass.
Anime Stats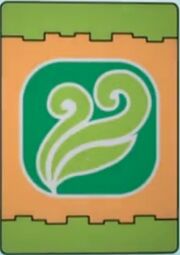 TCG Stats
+600; If you win this battle, put 1 card from the top of your opponent's deck into their discard pile for each life the defeated Dinosaur had.
Anime
Mesozoic Meltdown
The card was first used by Foolscap's Shantungosaurus to attack the D-Team's Pteranodon after they rescued Sanzo Hoshi from him. After Paris was defeated by Shantungosaurus, returning to her card along with the Pteranodon, Tupuxuara tried retrieving Sanzo but was knocked away by Chomp. When Shantungosaurus was defeated by Chomp's Plasma Anchor, it returned to its card. The cards were reclaimed by Max.
Later, in Ancient Japan (There's No Business Like Shogun Business), Zoe used the Move for Paris to defeat Foolscap's Tuojiangosaurus, throwing it into the air for Tupuxuara to hit it and destroy its Spectral Armor. It then knocked Foolscap away.
In Ancient Persia (Desert Heat), Paris used the Move again to counter Pachyrhinosaurus's Anhanguera Dive, Tupuxuara chasing and defeating Anhanguera by pushing it down to grind across the ground.
In Renaissance Paris (The Wee Musketeers), the Move summoned seven Tupuxuara to attack Gigas with their spinning column formation as the second part of a 1-2 punch with Ace's Sonic Blast, but the attack was insufficient to defeat him.
Trivia
Gallery