Alpha Gorgosaurus is an altered form of Gorgosaurus created and controlled by the Alpha Gang.
Statistics
Arcade Stats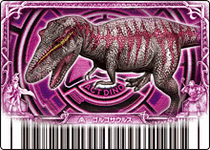 In the Japanese version, it was initially available as a limited exchange promotional card, as with all Alpha Dinosaurs.
Japanese
English
Taiwanese
TCG Stats
Species: Gorgosaurus
Attribute: Fire
Sign: Paper
Power: 1100
Level: 1
Life: 1
Card Code: DKTB-007/100
Card Rarity: Common
Image From: cropped Alpha Gang's Ambition arcade card
[Team Up: +500]

You can play this card as a Move that gives +500 Power. If you do and you lose this battle, you lose 1 extra Life Point.
Trivia
Zander's arcade comments:

Japanese: うではとても小さいが、あしはたくましいのでア~ル。どうもうそうな顔つきがカッコいいのでア~ル!
English: It has short arms, but its legs are quite powerful, you see! Its ferocious-looking features give it a formidable appearance!
Taiwanese: 雖然手臂很小,但雙腳可是很壯的。看似勇猛的臉孔也是牠的魅力之!。

Along with Super Alpha Acrocanthosaurus, Alpha Irritator, Einiosaurus, Wuerhosaurus, Ouranosaurus, and Dilophosaurus, it is one of the available dinosaurs in the Japanese non-sale Alpha Dinosaurs Egg card.
Alpha Gorgosaurus is one of only 2 Alpha Dinosaurs to appear in the TCG before Alpha Dinosaurs Attack was released, the other being Alpha Irritator.
Gallery