General Statistics
Edit
Dinosaur King Statistics
Edit
Arcade Stats
Edit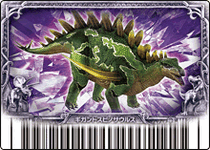 It was only available in the Japanese version.
TCG Stats
Edit
Gigantspinosaurus
Edit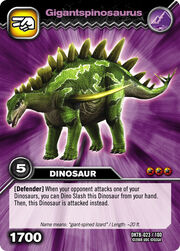 [Defender] When your opponent attacks one of your Dinosaurs, you can Dino Slash this Dinosaur from your hand. Then, this Dinosaur is attacked instead.
Mountain Gigantspinosaurus
Edit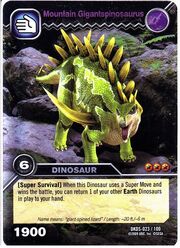 [Super Survival] When this Dinosaur uses a Super Move and wins the battle, you can return 1 of your other Earth Dinosaurs in play to your hand.
Hidden Gigantspinosaurus
Edit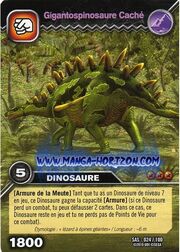 [Pack Armor] As long as you have a level 7 Dinosaur in play, this Dinosaur gains [Armored]. (If this Dinosaur loses a battle, you can discard 2 cards. If you do, this Dinosaur stays in play and you don't lose Life Points from that battle.)
Community content is available under
CC-BY-SA
unless otherwise noted.