General Statistics
Edit

Name: Gastonia burgei
Name Meaning: After Gaston
Diet: Herbivore
Size: 5-6 meters (16-20 feet)
Time Period: Early Cretaceous
Classification: Ankylosauria --> Nodosauridae(?) --> "Polacanthinae"
Place Found: Utah, USA
Discoverer: Kirkland, 1988
Dinosaur King Statistics
Edit
Arcade Stats
Edit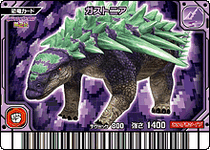 Sign: Rock
Strength: 1400
Technique: 800
Types:

Hunter Type (Japanese 2007 series; English Series 2; Taiwanese New Series)
Attack Type (Japanese Gekizan series)

Arcade Nickname:

Japanese: 全身鋭角武裝
English:The Mass of Spikes
Taiwanese: 全身銳角武裝

Name: Kotetsu (コテツ) (Dainason)
Japanese
English
Taiwanese
TCG Stats
Edit
Attribute: Earth
Sign: Rock
Power: 1600
Level: 4
Life: 2
Card Code: DKCG-045/160
Card Rarity: Silver Rare
Image From: (new art)
[Armored]

When this Dinosaur loses a battle, you can discard 2 cards. If you do, this Dinosaur stays in play. (You don't lose any Life Points from that battle.)
Sandstorm Gastonia
Edit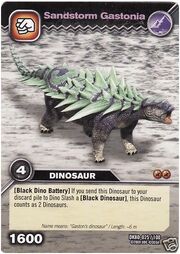 Attribute: Earth
Sign: Rock
Power: 1600
Level: 4
Life: 2
Card Code: DKBD-025/100
Card Rarity: Common
Abilities:
[Black Dino Battery]

If you send this Dinosaur to your discard pile to Dino Slash a [Black Dinosaur], this Dinosaur counts as 2 Dinosaurs.
Dr. Taylor's arcade comments:

Japanese: せなかと体の横に大きなトゲがならんでいる草食恐竜だ。こしも大きなほねの板で守られている。
English: A herbivore with large spikes on its back and sides. Its hips are protected by large bony plates, too.
Taiwanese: 背部與身體側面有著大刺的草食恐龍,腰也被大大的骨板保護著。
Community content is available under
CC-BY-SA
unless otherwise noted.