General Statistics
Edit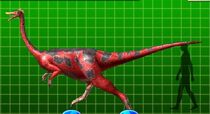 Name: Gallimimus bullatus
Name Meaning: Chicken Mimic
Diet: Omnivore
Length: 6-8 meters (20-26 feet)
Time Period: Late Cretaceous
Classification: Ornithomimosauria --> Ornithomimidae
Place Found: Mongolia
Describer: Osmolska, Roniewicz and Barsbold; 1972
Dinosaur King Statistics
Edit
Arcade Stats
Edit
TCG Stats
Edit
Gallimimus
Edit
Attribute: Wind
Sign: Rock
Power: 1600
Level: 4
Life: 2
Card Code: DKTB-039/100
Card Rarity: Common
Image From: (new art)
[Knockout Strike]

When this Dinosaur wins a battle, you can return 1 of your opponent's Dinosaurs in play to their hand.
unknown Gallimimus variant
Edit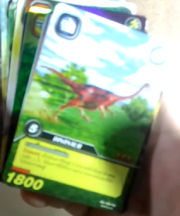 Attribute: Wind
Sign: Paper
Power: 1800
Level: 5
Life: 3
Card Code: DKJC-038/100?
Card Rarity: Thai Common
Image From: Kaku 4th arcade card
Abilities: (unreadable)
Gallimimus' arcade roar is based on duck's sound.
Community content is available under
CC-BY-SA
unless otherwise noted.