Funifuni Zaurus (フニフニザウルス) was the second ending theme for the Dinosaur King Anime. The theme is performed by the Japanese singer Yukiko Sakai. It debuted in Mesozoic Meltdown episode 1 and was the last ending theme for the series.
The CD containing "Funifuni Zaurus" and named after it was released on April 23, 2008. It also included the following tracks:
1) Funifuni Zaurus
2) ダンシング☆ディノ (Image Song)
3) Funifuni Zaurus (off vocal)
4) ダンシング☆ディノ (off vocal)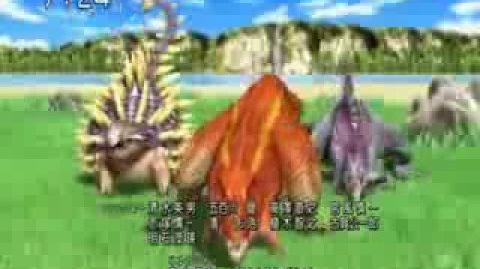 Full Version
Edit
フニフニザウルスが フニフニザウルスや
フニフニザウルスと フニ〜フニ〜って ヨガポーズ

タイムマシンで 原始人に会った日は
教えちゃうフニ フニ〜フニ〜
ぼくの乳歯が グラグラってとれた日も
前歯ないフニ フニ〜フニ〜

変幻自在 やったんさい? 自由自在 ばんばんざい!
ヨガする恐竜 フニフニザウルス 「超キモチィ〜!」

フニフニザウルスが フニフニザウルスや
フニフニザウルスと よってたかってリラックス
フニフニザウルスが フニフニザウルスや
フニフニザウルスと ダイナまったりデラックス

ジャングルだって 砂漠だって行った日は
そこでやるフニ フニ〜フニ〜
席替えして 気になる子のとなりの日
照れながらフニ フニ〜フニ〜

気分爽快 まだやるかい? 奇想天外 あと何回?
ケンコー恐竜 フニフニザウルス 「超やらかい〜!」

フニフニザウルスが フニフニザウルスや
フニフニザウルスと やっぱス〜パ〜メガトン級
フニフニザウルスが フニフニザウルスや
フニフニザウルスと みんなス〜ス〜深呼吸

一切合切 やったんさい? 拍手喝采 ばんばんざい!
ノビノビ恐竜 フニフニザウルス 「超キモチィ〜!」

フニフニザウルスが フニフニザウルスや
フニフニザウルスと ワザが決まったイケてるじゃん
フニフニザウルスが フニフニザウルスや
フニフニザウルスと フニ〜フニ〜って カッケーじゃん
フニフニザウルスが フニフニザウルスや
フニフニザウルスと よってたかってリラックス
フニフニザウルスが フニフニザウルスや
フニフニザウルスと ダイナまったりデラックス
Community content is available under
CC-BY-SA
unless otherwise noted.