Fire Scorcher (Death Fire デスファイア in Japanese and all arcade versions) is a Fire Move Card.
Statistics
Arcade Stats
It is the After-loss Move of Fire.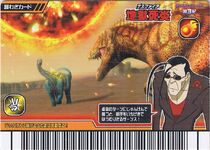 Anime Stats
DS Stats
TCG Stats
+500; Only a [Black Dinosaur] can use this Move.
If the Dinosaur you were battling was level 6 or above, your opponent must choose and discard 2 cards from their hand.
Trivia
Gallery