Fire Cannon (Big Fire Cannon in the Japanese arcade) is a Fire Move Card.
Statistics
Edit
Fire Cannon is the second Attack Move for Fire.
Names (Japanese Kanji & Taiwanese): 爆炎大砲 (Explosive Cannon)
Attribute: Fire
Sign: Rock
Power boost: 200 (Non-Critical); 300 (Critical)
Technique boost: 50
Usage Condition: This Move activates when you win with Rock.
Effect: Generate a ball of fire in your mouth, then shoot it at your opponent!
Japanese
English
Taiwanese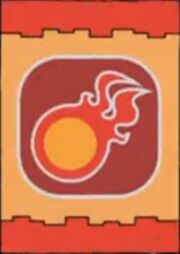 Attribute: Fire
Sign: Rock
Card Rarity: Common (DKCG), Silver Rare (SAS)
Effect:
+1000; (Only a Rock Fire Dinosaur can use this Move.)
Despite only being used in two episodes, it was used many times, as the dinosaurs using it would casually shoot attacks in various directions on a whim due to its non-complex usage.

Although used multiple times, it has hit very few of its (non-immobile) targets, suggesting that it has somewhat low accuracy or at least is relatively easy to dodge.
However, in the arcade, the fireball does not follow a straight path and in fact slows before curving down to hit the opponent, indicating an inherent targeting ability that should make it tough to dodge.

Artwork from one of its various arcade cards is also seen on the TCG Move Card Mega Fireball, and an altered version of another is seen on Steam Blast.
When a Fire Dinosaur is charging the fireball in the arcade, the camera's placement allows one to observe the head more closely.
Community content is available under
CC-BY-SA
unless otherwise noted.