The only known Eustreptospondylus specimen is a 15-foot juvenile or sub-adult, so its maximum size is uncertain. It is extremely similar to Magnosaurus, another megalosaur.
General Statistics
Edit
Name: Eustreptospondylus oxoniensis
Name Meaning: Well-curved Vertebrae
Diet: Carnivore
Length: 4.5-6 meters (15-20 feet)
Time Period: Middle/Late Jurassic
Classification: Megalosauroidea --> Megalosauridae --> Eustreptospondylinae
Place Found: England
Describer: Walker, 1964
Dinosaur King Statistics
Edit
Arcade Stats
Edit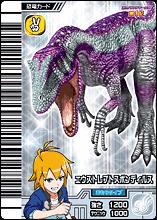 Sign: Scissors
Power: 1200
Technique: 1000
Attack:

Scissors (Critical): 530
Rock/Paper: 460

Types:

Crisis Type (Japanese 2007 series; English & Taiwanese Series 2)
Defense Type (Japanese Gekizan series)
Paper-Paper Type (Japanese Kakushin series)

Arcade Nickname:

Japanese: 風の奇術師
English: The Wind Magician
Taiwanese: 風之魔術師
Japanese
English
Taiwanese
TCG Stats
Edit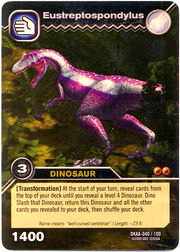 Attribute: Wind
Sign: Paper
Power: 1400
Level: 3
Life: 2
Card Code: DKAA-040/100
Card Rarity: Gold Rare
[Transformation]

At the start of your turn, reveal cards from the top of your deck until you reveal a level 4 Dinosaur. Dino Slash that Dinosaur, return this Dinosaur and all the other cards you revealed to your deck, then shuffle your deck.
Dr. Taylor's arcade comments:

Japanese: ヨーロッパで発見された二足歩行の肉食恐竜で、原始てきなとくちょうを持っている。
English: A bipedal carnivore discovered in Europe. It has very primitive characteristics.
Taiwanese: 在歐洲被發現的二足行走的肉食恐龍,有著原始的特徵。

Along with Carnotaurus, Utahraptor, Ceratosaurus, Allosaurus, Neovenator, Monolophosaurus, Dilophosaurus, Megaraptor, Deltadromeus, and Sinraptor, it is one of the available dinosaurs in the Japanese and Taiwanese non-sale Wind Egg card.
Along with Ampelosaurus, Baryonyx, Iguanodon, Dacentrurus, and Camptosaurus, it is one of the available dinosaurs in the Japanese non-sale European Egg card.
Community content is available under
CC-BY-SA
unless otherwise noted.