Spectral Armor Euoplocephalus is a TCG-only armored form of Euoplocephalus presumably used by the Space Pirates, though it was never seen under their control (as the TCG has no storyline).
Statistics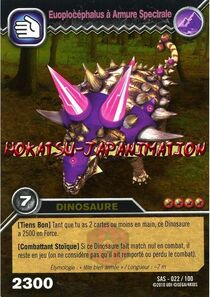 [Stand Firm] (?)

As long as you have 2 or fewer cards in your hand, this Dinosaur has 2500 Power.

[Unflinching Fighter]

If this Dinosaur ties a battle, it stays in play (it isn't considered to have won or lost the battle).
Trivia
It and Iguanodon are the only TCG-only armored dinosaurs. Its Spectral Armor suit is additionally unlike any other seen on any dinosaur.