Due to the extremely fragmentary nature of its known fossils (only some parts of a single skull), Eocarcharia's full size is uncertain, leading to the large size range listed below.
General Statistics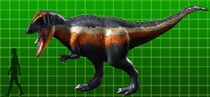 Name: Eocarcharia dinops
Name Meaning: Dawn Shark
Diet: Carnivore
Length: 8-11 meters (26-35 feet)
Time Period: Early/Middle Cretaceous
Classification: Allosauroidea --> Carcharodontosauridae
Place Found: Niger
Describer: Sereno and Brusatte, 2008
Dinosaur King Statistics
Eocarcharia was only available in the Japanese arcade.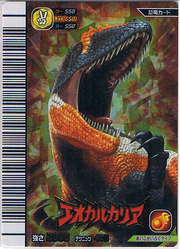 Owner: Goma (Shadow Empire)
Sign: Scissors
Power: 2000
Technique: 400
Attack:

Scissors (Critical): 650
Rock/Paper: 550

Type: Tie Recovery Type
Arcade Nickname: 恐怖の眼光 (The Glare of Terror)
Card Rarity: Gold
Eocarcharia was one of the Exclusive Card in 2009.
Trivia
Dr. Taylor's arcade comments:

Original: サメのようなするどい歯を持つ肉食恐竜で、目の上のほねがせり上がっている。アフリカのサハラさばくで発見された新種の恐竜だ。
Translation: A carnivore with shark-like teeth, its eyes bones are elevated. It is a new dinosaur found in Sahara Desert of Africa.

Eocarcharia's base form arcade card was the 12th exclusive dinosaur in 2009, which was a promo card of the "Alpha Gang's Eocarcharia Hunting War" series.
It is the only character-owned main dinosaur to not appear in the anime.
It is one of the very few dinosaurs to not properly or at all appear in the TCG, alongside Agustinia, Allosaurus atrox (seen on 2 Moves), Fukuiraptor (seen behind another dinosaur and on a Move), and Eoraptor.
Gallery
Videos