Elemental Power is a Normal Move Card. It was only available in the arcade game.
Statistics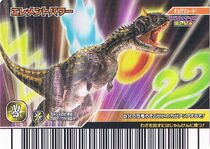 Attribute: Normal
Sign: Scissors
Usage Condition: This Move occasionally triggers when you win with any Sign.
Effect: A surge of energy increases the potency of your element power against your opponents and reduce theirs on you! For example, your Fire Super Moves will be even stronger when attacking a Wind Dinosaur, and your opponent's Water Super Moves will have less effect on your Fire Dinosaur; the same goes for non-Move attacks.
Japanese
English
Taiwanese
Trivia
Gallery