Electro Launcher is a Secret Move Card.
Statistics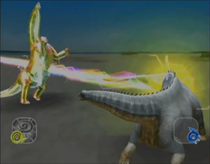 Attribute: Secret
Sign: Scissors
Used By: Brontosaurus
Effect: Using light energy, create a powerful sword of rainbow light on your tail and thrust it into your opponent, then unleash a pulse that throws them back!
Other: Like all Secret Moves, it has no actual card. In the arcade game, simply swipe a Scissors Normal Move Card listing any recommended Technique to access this Move.