General Statistics
Edit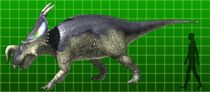 Dinosaur King Statistics
Edit
Arcade Stats
Edit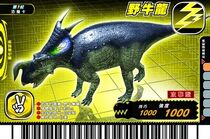 Sign: Scissors
Strength: 1000
Technique: 1000
Attack:

Scissors (Critical): 780
Rock/Paper: 335

Types:

Attack Type (Japanese 2006 series; English & Taiwanese Series 1)
Crisis Type (Japanese 2007 series; English & Taiwanese Series 2)
Charge Type (Japanese Gekizan series)
Paper-Paper Type (Japanese Kakushin series)

Arcade Nickname:

Japanese: 白亜紀のバッファロー
English: Cretaceous Buffalo
Taiwanese: 白堊紀野牛
Japanese
English

1st Edition (New; Dino-39)
2nd Edition (022-Dino; Attack Type)
3rd Edition (027-Dino; Attack Type)
4th Edition (030-Dino; Attack Type)
5th Edition (035-Dino; Attack Type)
2008 Special Edition (024-Dino; Attack Type)
Nemesis Edition (Dino-39)
Series 2 2nd Edition (026-Dino; Crisis Type)

Taiwanese

1st Edition Extension (New; 龍-39)
2nd Edition (022-龍; Attack Type)
3rd Edition (030-龍; Attack Type)
4th Edition (035-龍; Attack Type)
2008 Special Edition (024-龍; Attack Type)
Series 2 2nd Edition (026-龍; Crisis Type)
Non-sale Lightning Egg
TCG Stats
Edit
Einiosaurus
Edit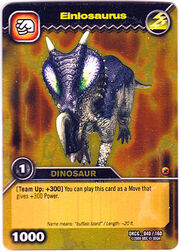 Attribute: Lightning
Sign: Rock
Power: 1000
Level: 1
Life: 1
Card Code: DKCG-040/160
Card Rarity: Gold Rare
Image From: cropped 07 1st+ arcade card
[Team Up: +300]

You can play this card as a Move that gives +300 Power.
Herd Leader Einiosaurus
Edit
Attribute: Lightning
Sign: Scissors
Power: 1000
Level: 1
Life: 1
Card Code: DKTA-021/100
Card Rarity: Common
Image From: 07 2nd/S2 2nd arcade card
Abilities:
[Final Ally]

At the start of your turn, if your opponent has no Dinosaurs in play, you can search your deck for a Dinosaur whose level is equal to your Turn Counter and put it into your hand. (Shuffle your deck after you search it.)
Community content is available under
CC-BY-SA
unless otherwise noted.