Ed (Edo) is a member of the Alpha Gang. In the English dub, he is voiced by David Wills.
Character Design
Edit
Following other Alpha Gang members, Ed's Japanese name "Edo" may be a reference to a dinosaur from the Element he typically uses, specifically the Earth Dinosaur Edmontonia.
Personality
Edit
He is the shyest member because Ursula and Zander often yell at him for talking. He is nearly always eating. He also is known for jinxing their team.
In the DS Game, Ed is the second boss seen. He primarily uses Earth dinosaurs like Edmontonia, Alpha Wuerhosaurus, Saichania and Alpha Kentrosaurus. In some battles, he also uses a Utahraptor.
Ed is shown to be technologically savvy, managing to knock out the power of an entire town with his computers.
In the anime, Ed is a bumbling sidekick to Ursula and Zander. When Ed was a young boy, he lost his parents and was put in a orphanage, but was very troublesome for the others. One day, Dr. Z came to orphanage to for three troublesome kids (or trouble-making tots, as Ursula puts it), so Dr. Z adopted Ed, Ursula, and Zander with all his loving care, making a great foster father.
Often the last to summon a dinosaur, Ed usually uses Tank the Saichania, always using her when the Alpha Trio summons all three of their dinosaurs, though has used the others on occasion. He sometimes has suggestions for the team, which are sometimes surprisingly smart realizations about how their plans could go wrong, but is always ignored.
Ed is part of the Alpha Gang, but unlike in the anime, he isn't friendly towards the other members because no one appreciates him, so he loves computers because they never do anything to him. When Max and Rex come to his place, he traps them in a maze he created with his computer and made completely 4-D. He also sends herds of dinosaurs around each corner. When Max and Rex are surrounded, Rex comes up with a plan by telling Benjamin to get water all over the floor, then telling Max to have King use Electric Charge at the ground, which shocks every dinosaur surrounding them. It also fries Ed's computers, which makes him angry.
Max tells him that he created an awesome maze, which makes Ed happy that Max was the first person to appreciate something he did.
Appearances in Other Media
Edit
In Kyoryu-King.com's 4komas, in their 26th comic, the D-Team makes Ed skinny by bursting his stomach with Max's visor horns (which can apparently shoot out), releasing the air (kids, don't try this at home; it doesn't work). In the next comic, they make Zander fat by pumping air into him.
Statistics
Edit
TCG Stats
Edit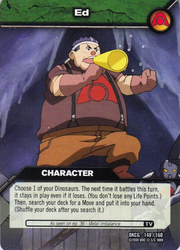 Team: Alpha Gang
Card Rarity: Common (DKCG, DKTB, DKTA), Gold Rare (DKDS)
Image From (DKCG): Ep. 36 anime scene
Image From (DKTB): Ep. 36 anime scene
Image From (DKDS): Ep. 56 anime scene
Image From (DKTA): Ep. 62 anime scene
Abilities: