Officially, Dromiceiomimus is considered synonymous with Ornithomimus.
General Statistics
Edit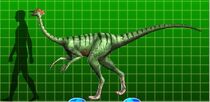 Name: Dromiceiomimus brevitertius
Name Meaning: Emu Mimic
Diet: Omnivore
Length: 3-4 meters (10-13 feet)
Time Period: Late Cretaceous
Classification: Ornithomimosauria --> Ornithomimidae
Place Found: Alberta, Canada
Describer: Russell, 1972
Dinosaur King Statistics
Edit
Dromiceiomimus' arcade roar is based on what is commonly thought of as an eagle's sound, but is actually a red-tailed hawk.
Community content is available under
CC-BY-SA
unless otherwise noted.