This is an early release of the Dinosaur King Trading Card Game, around the time of the Promotional Set, Starter Set, and Base Set.
Introduction
Special versions of Dinosaur Cards with abilities based around the toy figures available alongside them.
Specifications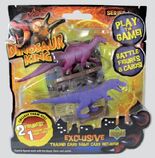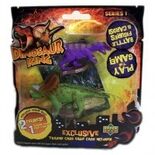 Set Name: Figure Set (descriptive, cards not sold separately)
Set ID: DKPM
TCG Release Date: 2008
Number of Cards in Set: 20
TCG Rarity Breakdown:
Card List
Trivia
Most dinosaurs in this wave have 100-200 more or less Power here than they do in the Base Set, owing to their differing Abilities.
The cards to this wave aren't sold in their own packaging, instead being included in groups of 2 with their corresponding toy figures. As a Daspletosaurus is confirmed from the above images to be in at least two different packages, there doesn't seem to be a strict pattern they are grouped into.
Oddly, as there are 21 dinosaur figures in the set but only 20 cards in this wave, Saltasaurus alone is left without a corresponding TCG card for its toy.
Gallery