This is the eighth (and so far the last) deck in the Dinosaur King Trading Card Game, after Spectral Armor Shock and the Power Pack. At least as of now, it is only available in the Thai version, but no readably clear images have been found, and as such, no English translations exist for most of the card names. Most other information is also yet unknown.
Introduction
The battle against the Space Pirates isn't over yet, and amidst the struggle they've let loose their most destructive dinosaur: Spectral Armor Apatosaurus.
Specifications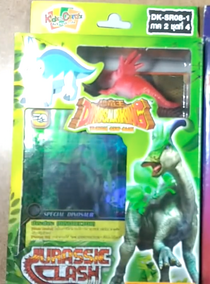 Set Name: Series 8: Jurassic Clash
Set ID: DKJC (?) (assumed)
TCG Release Date: c. 2010-11 (?)
Number of Cards in Set: 100 (assumed, 85+ confirmed or reasonably predicted)
TCG Rarity Breakdown: (as Thai cards seem to only have 1 foil variant resembling Silver Rare that doesn't cover all types of foil cards when compared to an English release of the same deck, the normal foil counts cannot be determined)

2+ Thai Foil
43+ Thai Common
?x Common
?x Silver Rare
?x Gold Rare
?x Colossal Rare
Card List
As the known images are too blurry to read, card numbers cannot be determined, but are presented in the presumable pattern following previous decks' traditions. Specifically, the ordering of Normal Move Cards is completely unknown, but Dinosaur Cards are always ordered within Elements by their Level from cards 001-042. All regular and armored Special Dinosaurs are presumed to be present. Known present and returning Moves are used to predict unconfirmed present and returning Moves (labeled "presumed"). Colossal Rare cards have not been directly confirmed to be present. Cards labeled "probably" are cards confirmed present but whose identities are uncertain. Cards with a Rarity of "?" are those not directly confirmed to exist.
Trivia
It appears as if this deck is available in D-Team and Alpha Gang Element-themed releases; the one reviewed in the only known video was of D-Team Elements, and thus no Fire, Water, or Earth cards in the deck can be directly confirmed.