This is the seventh release of the Japanese arcade game. Its cards are equivalent to the English 4th Edition and the Taiwanese 3rd Edition. It was preceded by the 5th Edition and followed by the 6th Edition.
Description
Edit
The releases roll on! This wave features several returning Dinosaur Cards not seen since the 2nd Edition, plus two new Super Moves. Card artworks feature a unique empty environment with Element-colored grid floors.
Specifications
Edit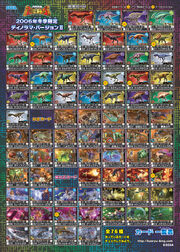 Japanese Set Name: 2006 Winter Season Limited Edition (2006年冬季限定)

Japanese Release Date: November 30, 2006

English Equivalent: 4th Edition

English Release Date: TBA

Taiwanese Equivalent: 3rd Edition

Taiwanese Release Date: TBA

Number of Cards in Wave: 76, +2 Hidden

33+2 Dino Cards, 21 Move Cards, 22 Super Move Cards

Number of New Cards: 2, +2 Hidden

0+2 Dino Cards, 0 Move Cards, 2 Super Move Cards

Dino Card Rarity Breakdown:

Gold: 4
Silver: 4
Bronze: 4
Regular: 21
TBA: 2
Card List
Edit
Cards named in bold are new to this wave, and those in italics are marked as returning.
Hidden Cards
Edit
Card ID
Name
Card Type
Attribute
Rarity
Type
S01-竜
Deinonychus
("hidden")
Dinosaur
Secret
TBA
Attack
S02-竜
Deinonychus
("revealed")
Dinosaur
Secret
TBA
Attack
This is one of the only waves to specially mark those cards returning from waves before the previous wave. After the next release, returning cards will not be pointed out, and will instead simply be listed as normal.
This is the first Japanese release to include a Secret Dinosaur, though it's not mentioned on the main poster.
Community content is available under
CC-BY-SA
unless otherwise noted.