This is the sixth release of the Japanese arcade game. Its cards are equivalent to the English 3rd Edition, but they have no equivalent in the Taiwanese version. It was preceded by the 4th Edition and followed by the 2006 Winter Season Limited Edition.
Description
The releases roll on! This time adds 4 new Dinosaurs, 3 Moves, and 4 Super Moves. Also features the special card from the Fukui Prefectural Dinosaur Museum, Fukuisaurus!
Specifications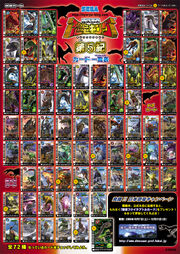 Japanese Set Name: 5th Edition (第5紀)

Japanese Release Date: October 4, 2006

English Equivalent: 3rd Edition

English Release Date: TBA

Taiwanese Equivalent: None (new cards instead debut in Taiwanese 3rd Edition)

Taiwanese Release Date: N/A

Number of Cards in Wave: 72

31 Dino Cards, 21 Move Cards, 20 Super Move Cards

Number of New Cards: 12

5 Dino Cards, 3 Move Cards, 4 Super Move Cards

Dino Card Rarity Breakdown:

Gold: 4
Silver: 4
Bronze: 3
Regular: 20
Card List
Cards named in bold are new to this wave.
Exclusive Card
| Card ID | Name | Card Type | Attribute | Rarity | Type |
| --- | --- | --- | --- | --- | --- |
| 2006 EX03-竜 | Fukuisaurus | Dinosaur | Grass | Regular | Defense |