This is the fourth release of the Japanese arcade game. Its cards are equivalent to most of the English 2008 Special Edition and most of the Taiwanese 2008 Special Edition. It was preceded by the 3rd Edition and followed by the 4th Edition.
Description
The cards in this wave feature exotic landscape backgrounds! Also features special trophy cards for Fire, Grass, and Lightning showing Max. No other new cards are included.
Specifications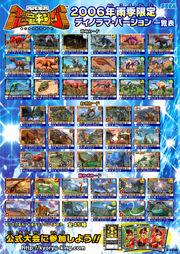 Japanese Set Name: 2006 Rainy Season Limited Edition (2006年雨季限定)

Japanese Release Date: May 2006

English Equivalent: most of 2008 Special Edition

English Release Date: 2008

Taiwanese Equivalent: most of 2008 Special Edition

Taiwanese Release Date: 2008

Number of Cards in Wave: 45

18 Dino Cards, 15 Move Cards, 12 Super Move Cards

Number of New Cards: 0

0 Dino Cards, 0 Move Cards, 0 Super Move Cards

Dino Card Rarity Breakdown:

Gold: 3
Silver: 2
Bronze: 2
Regular: 11
Card List
Trivia
This is the only Japanese wave to not include any new cards, not even Hidden ones left off the poster.
Although both English and Taiwanese 2008 Special Editions use the card format and artwork from this wave, they also include a number of other cards not included in this wave, though with artwork of the same style, such as later-released Super Moves and Hidden Dinosaurs, plus most Dinosaurs previously released yet not included in this wave. This art is either original or from drafted but ultimately unused cards from this wave.