This is the third release of the Japanese arcade game. Its new cards are included in the English 1st Edition and Nemesis Edition and the Taiwanese 1st Edition Extension. It was preceded by the 2nd Edition and followed by the 2006 Rainy Season Limited Edition.
Description
The releases roll on! This time adds a new Dinosaur to each Element and new Super Moves for the remaining 3 Elements. Also features a special trophy card for Fire showing Max…and the first in a series of hidden surprises not shown on the poster.
Specifications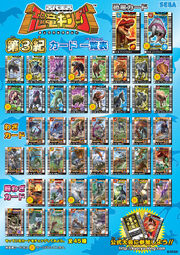 Japanese Set Name: 3rd Edition (第3紀)

Japanese Release Date: March 23, 2006

English Equivalent: new cards included in 1st Edition & Nemesis Edition

English Release Date: TBA

Taiwanese Equivalent: new cards included in 1st Edition Extension

Taiwanese Release Date: TBA

Number of Cards in Wave: 45, +1 Hidden

18+1 Dino Cards, 15 Move Cards, 12 Super Move Cards

Number of New Cards: 9, +1 Hidden

6+1 Dino Cards, 0 Move Cards, 3 Super Move Cards

Dino Card Rarity Breakdown:

Gold: 3
Silver: 2
Bronze: 2
Regular: 11
TBA: 1
Card List
Cards named in bold are new to this wave.
Hidden Card