This is the twenty-third release of the Japanese arcade game. Its cards have no equivalents as the English version ended before it could adapt them, and the Taiwanese version was replaced by the Japanese version in Taiwan. It was preceded by the Kakushin 4th Edition and followed by the Kakushin 6th Edition Hyper Battle Museum.
Description
The releases draw towards the end! In this wave, there are no regular Dinosaurs or Normal Moves—instead, it is completely made of every Super Dinosaur and Super Move there ever has been or will be! Includes two new Super Dinosaurs for each Element, the final pair of non-sign Super Moves, and introducing the final character: the Space Pirate Goma, with his uniquely altered and armored forms of Eocarcharia! This wave's Super Moves primarily feature Super, Alpha, Secret, recent, and yet unseen dinosaurs.
Specifications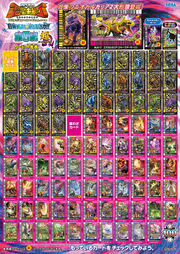 Japanese Set Name: Mezameyo! Aratanaru Chikara!! 5th Edition Chou Ω (目覚めよ!新たなる力!! 第5紀 超Ω) (Wake Up! New Power!! Super Omega)

Japanese Release Date: August 6, 2009

English Equivalent: None (discontinued)
Taiwanese Equivalent: None (replaced by Japanese)
Number of Cards in Wave: 100

39 Dino Cards, 0 Move Cards, 60 Super Move Cards, 1 Character Card

Number of New Cards: 17

14 Dino Cards, 0 Move Cards, 2 Super Move Cards, 1 Character Card

Dino Card Rarity Breakdown:

Gold: 1
Silver: 0
Bronze: 0
Regular: 0
Super: 38
Card List
Cards named in bold are new to this wave.
Super Secret Dinosaur Card
Armor Dinosaur Cards
Character Cards
Announcements
Trivia
Needless to say, this is the only wave without regular Dinosaurs or Normal Move Cards. Consequently, the main card list begins with Super Moves instead of Dinosaurs; this hasn't happened since the 1st Edition uniquely gave a separate numbered list to each of Normal and every Element of Super Move.