This is the twenty-second release of the Japanese arcade game. Its cards have no equivalents as the English version ended before it could adapt them, and the Taiwanese version was replaced by the Japanese version in Taiwan. It was preceded by the Kakushin 3rd Edition and followed by the Kakushin 5th Edition Super Ω.
Description
Edit
The releases roll on! Introducing new Dinosaur, Super Dinosaur, Move, and non-sign Super Move Cards, plus several special cards: Super D-Team dinosaur combined cards, two Secret Eggs, and a Super Secret Dinosaur! This wave's Dinosaur Cards form a panoramic prehistoric landscape when placed together.
Specifications
Edit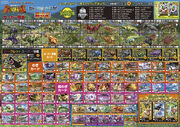 Japanese Set Name: Mezameyo! Aratanaru Chikara!! 4th Edition (目覚めよ!新たなる力!! 第4紀) (Wake Up! New Power!!)

Japanese Release Date: May 28, 2009

English Equivalent: None (discontinued)
Taiwanese Equivalent: None (replaced by Japanese)
Number of Cards in Wave: 96

41 Dino Cards, 27 Move Cards, 28 Super Move Cards

Number of New Cards: 19

14 Dino Cards, 3 Move Cards, 2 Super Move Cards

Dino Card Rarity Breakdown:

Gold: 8
Silver: 6
Bronze: 5
Regular: 8
Super: 9
Combined Cards: 3
Card List
Edit
Cards named in bold are new to this wave.
Super Secret Dinosaur Card
Edit
Super D-Team Combined Cards
Edit
Egg Cards
Edit
It is the only Japanese wave of arcade cards with a landscape-oriented release poster.
Announcements
Edit
Community content is available under
CC-BY-SA
unless otherwise noted.