This is the first release of the Japanese arcade game. Its cards are equivalent to the English Original Edition and the Taiwanese 1st Edition. It was followed by the 2nd Edition.
Description
Introducing Dinosaur King to the world, the debut of dinosaur fighting through rock-paper-scissors! Includes a host of Dinosaur Cards, the Technique-targeted Normal Moves, a pair of dino-calling Normal Moves for each Sign, and one Attack Super Move per Element.
Specifications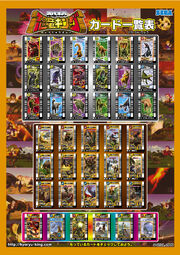 Japanese Set Name: 1st Edition (第1紀)

Japanese Release Date: August 2005

English Equivalent: Original Edition

English Release Date: 2005

Taiwanese Equivalent: 1st Edition

Taiwanese Release Date: 2005

Number of Cards in Wave: 39

18 Dino Cards, 15 Move Cards, 6 Super Move Cards

Number of New Cards: 39

18 Dino Cards, 15 Move Cards, 6 Super Move Cards

Dino Card Rarity Breakdown:

Gold: 2
Silver: 2
Bronze: 2
Regular: 12
Card List
Cards named in bold are new to this wave.
Trivia
This release alone among the Japanese waves has unusual card code numbering that leaves gaps likely intended to be filled in with later releases, but those releases instead began numbering all cards within them in order starting from 1, leaving recurring cards with a different code number in each wave. The English 1st Edition and Taiwanese 1st Edition Extension, which included the Japanese 2nd and 3rd Editions' new cards, however, do expand on this spaced numbering format, the new cards fitting into the gaps, but both drop this by their own 2nd Editions to number each wave straight through.