This is the seventeenth release of the Japanese arcade game. Its cards have no equivalents as the English version ended before it could adapt them, and the Taiwanese version was replaced by the Japanese version in Taiwan. It was preceded by the Gekizan 2nd Edition and followed by the Gekizan 3rd Edition.
Description
A (somewhat) minor expansion, featuring many of the previous cards not included in the last wave and in a similar style, and introducing new Dinosaur, Move, and Super Move Cards, with another Fossil Assist Move. Also including the last two DinoTector Armor Dinosaurs, the Space Pirates' three altered dinos, and a new dimension to gameplay: Character Cards!
Specifications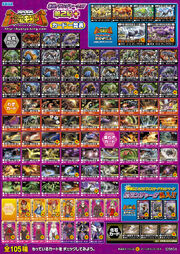 Japanese Set Name: Gekitou! Zanjark!! 2nd Edition+ (激闘ザンジャーク!! 第2紀+) (Fierce Fight! Spectral Space Pirates!!)

Japanese Release Date: July 18, 2008

English Equivalent: None (discontinued)
Taiwanese Equivalent: None (replaced by Japanese)
Number of Cards in Wave: 105, +1 Hidden

39+1 Dino Cards, 25 Move Cards, 27 Super Move Cards, 14 Character Cards

Number of New Cards: 28, +1 Hidden

8+1 Dino Cards, 3 Move Cards, 3 Super Move Cards, 14 Character Cards

Dino Card Rarity Breakdown:

Gold: 12
Silver: 7
Bronze: 3
Regular: 17
TBA: 1
Card List
Cards named in bold are new to this wave.
Fossil Cards
Character Cards
Hidden Cards
Announcements