This is the fifteenth release of the Japanese arcade game. Its cards have no equivalents as the English version ended before it could adapt them, and the Taiwanese version was replaced by the Japanese version in Taiwan. It was preceded by the 2007 4th Edition+ and followed by the Gekizan 2nd Edition.
Description
A new generation has dawned, the Gekizan Editions! Featuring new Dinosaur, Fossil, Move, and Super Move Cards, but also introducing a new feature: DinoTector Armor for two of your favorite anime dinosaurs! Plus, returning Dinosaurs now have shuffled or new Types, adding Reform and Tie Defense to the mix!
Specifications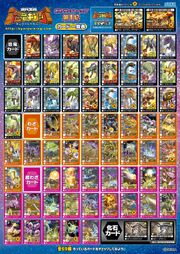 Japanese Set Name: Gekitou! Zanjark!! 1st Edition (激闘!ザンジャーク!! 第1紀) (Fierce Fight! Spectral Space Pirates!!)

Japanese Release Date: March 18, 2008

English Equivalent: None (discontinued)
Taiwanese Equivalent: None (replaced by Japanese)
Number of Cards in Wave: 69, +1 Hidden

31+1 Dino Cards, 17 Move Cards, 21 Super Move Cards

Number of New Cards: 13, +1 Hidden

8+1 Dino Cards, 2 Move Cards, 3 Super Move Cards

Dino Card Rarity Breakdown:

Gold: 6
Silver: 3
Bronze: 5
Regular: 17
TBA: 1
Card List
Cards named in bold are new to this wave.
Fossil Cards
Hidden Cards
| Card ID | Name | Card Type | Attribute | Rarity | Type |
| --- | --- | --- | --- | --- | --- |
| SP10-竜 | Megalosaurus | Dinosaur | Secret | TBA | Reform |
Announcements
Trivia
This is the first wave in which the included Normal Moves have undergone a reduction in number (and a significant one at that), each previous wave including all Normal Moves thus far introduced.

It is also the first significant reduction of Super Moves, though they had previously undergone a small reduction.