This is the fourteenth release of the Japanese arcade game. Its cards are equivalent to the English Series 2 4th Edition and the Taiwanese Series 2 4th Edition. It was preceded by the 2007 4th Edition and followed by the Gekizan 1st Edition.
Description
Edit
A minor update, the Move Cards feature the same artworks as the initial 2007 4th Edition, and the Dinosaur Cards merely have a new color background. Features new Dinosaurs, a new Move, Super Move, and Fossil Dinosaur. Also introducing two types of altered dinosaurs, both with exclusive Types: a trio of Poison Type Alpha Dinosaurs and the Death Type Black Tyrannosaurus!
Specifications
Edit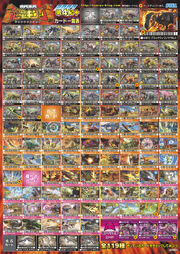 Japanese Set Name: 2007 4th Edition+ (2007年第4紀+)

Japanese Release Date: 2007

English Equivalent: Series 2 4th Edition

English Release Date: TBA

Taiwanese Equivalent: Series 2 4th Edition

Taiwanese Release Date: TBA

Number of Cards in Wave: 119, +1 Hidden

55 Dino Cards, 0+1 Egg Card, 34 Move Cards, 30 Super Move Cards

Number of New Cards: 11

9 Dino Cards, 1 Move Card, 1 Super Move Card

Dino Card Rarity Breakdown:

Gold: 8
Silver: 11
Bronze: 8
Regular: 28
Card List
Edit
Cards named in bold are new to this wave.
Fossil Cards
Edit
Anime Cards
Edit
Alpha Dinosaur Cards
Edit
Hidden Cards
Edit
Announcements
Edit
With 119 cards listed on the poster, this is the largest Japanese wave.
This is the first release to not feature Tyrannosaurus as Dinosaur Card 001 on the list; though Black Tyrannosaurus is featured prominently at the top of the poster in its place, it is part of the anime card listing, not the main listing.

Tyrannosaurus won't be absent from the first slot again until the Kakushin 1st Edition, which will prominently feature Super Tyrannosaurus instead.
Tyrannosaurus is also the only card from the initial 2007 4th Edition that isn't in this expanded Plus-Edition. Instead, however, there is a Tyrannosaurus fossil card.

Tyrannosaurus' Japanese Fossil card used to be misprinted. According to Japanese SEGA news on January 25, 2008, the barcode of its card is the barcode of Tarbosaurus' Fossil card.
Community content is available under
CC-BY-SA
unless otherwise noted.