This is the twelfth release of the Japanese arcade game. Its cards are equivalent to the English Series 2 3rd Edition and the Taiwanese New 3rd Edition. It was preceded by the 2007 2nd Edition and followed by the 2007 4th Edition.
Description
The releases roll on, with new Dinosaurs, Moves, and Super Moves! The Move Cards again feature an empty colored grid environment, and the foil Dinosaur Cards show their name in English in the background and add new battle types: Hunter, Heroic, and Charge! Now featuring all main dinosaurs from the anime, and introducing new Fossil Card dinosaurs with the exclusive Revival Type!
Specifications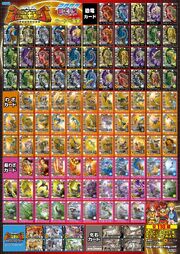 Japanese Set Name: 2007 3rd Edition (2007年第3紀)

Japanese Release Date: October 18, 2007

English Equivalent: Series 2 3rd Edition

English Release Date: TBA

Taiwanese Equivalent: New 3rd Edition

Taiwanese Release Date: TBA

Number of Cards in Wave: 110, +1 Hidden

48+1 Dino Cards, 32 Move Cards, 30 Super Move Cards

Number of New Cards: 15, +1 Hidden

9+1 Dino Cards, 3 Move Cards, 4 Super Move Cards

Dino Card Rarity Breakdown:

Gold: 14
Silver: 7
Bronze: 6
Regular: 21
TBA: 1
Card List
Cards named in bold are new to this wave.
D-Kids Adventure Series Cards
| Card ID | Name | Card Type | Attribute | Rarity | Type |
| --- | --- | --- | --- | --- | --- |
| AN04-竜 | Terry (Tirano) | Dinosaur | Fire | Gold | Super Attack |
| AN05-竜 | Spiny (Spino) | Dinosaur | Water | Gold | Super Tie |
| AN06-竜 | Tank (Saika) | Dinosaur | Earth | Gold | Super Defense |
| AN07-竜 | Chomp (Gabu) | Dinosaur | Lightning | Gold | Super Crisis |
| AN08-竜 | Ace (Ace) | Dinosaur | Wind | Gold | Super Blitz |
| AN09-竜 | Paris (Parapara) | Dinosaur | Grass | Gold | Super Counter |
Fossil Cards
Hidden Card