This is the eleventh release of the Japanese arcade game. Its cards are equivalent to the English Series 2 2nd Edition and the Taiwanese New 2nd Edition. It was preceded by the 2007 1st Edition+ and followed by the 2007 3rd Edition.
Description
The releases roll on, with new Dinosaurs, Moves, and Super Moves! These cards feature the dinosaurs living in nature environments, from forests and plains to deserts and lakes. Also introducing aspects from the anime: a Normal Move featuring Alpha Gang technology, and the familiar dinosaurs Chomp, Ace, and Paris!
Specifications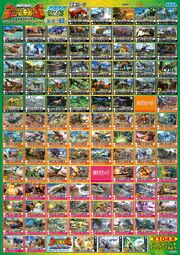 Japanese Set Name: 2007 2nd Edition (2007年第2紀)

Japanese Release Date: July 12, 2007

English Equivalent: Series 2 2nd Edition

English Release Date: TBA

Taiwanese Equivalent: New 2nd Edition

Taiwanese Release Date: TBA

Number of Cards in Wave: 104, +1 Hidden

46+1 Dino Cards, 29 Move Cards, 29 Super Move Cards

Number of New Cards: 13

9 Dino Cards, 2 Move Cards, 2 Super Move Cards

Dino Card Rarity Breakdown:

Gold: 10
Silver: 6
Bronze: 6
Regular: 24
TBA: 1
Card List
Cards named in bold are new to this wave.
D-Kids Adventure Series Cards
Hidden Card
Trivia
Curiously, according to the poster's numbering, there is no card 073 in this wave, which would go between the Normal Moves (ending at 072) and the Super Moves (beginning at 074). This gap lets the advertised 104 cards be present despite the numbers going to 102 with 3 special cards. The reason why is unclear; it is likely a numbering error in either the poster alone (counting the "Super Moves" label space by accident) or the cards themselves. The cards of at least the English Series 2 2nd Edition equivalent don't skip 073, potentially making their numbering 1 off between versions.

This is also the first number gap present in the Japanese posters' main card listings since the 1st Edition.