This is the tenth release of the Japanese arcade game. Its cards are not directly equivalent to any English or Taiwanese release, though the new cards are included in the English Series 2 2nd Edition and Taiwanese New 2nd Edition. It was preceded by the 2007 1st Edition and followed by the 2007 2nd Edition.
Description
A minor update, this wave contains everything the last one does with several returning and new Dinosaur Cards, and another Super Move.
Specifications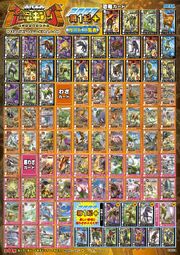 Japanese Set Name: 2007 1st Edition+ (2007年第1紀+)

Japanese Release Date: May 30, 2007

English Equivalent: None (new cards instead debut in Series 2 2nd Edition)

English Release Date: N/A

Taiwanese Equivalent: None (new cards instead debut in New 2nd Edition)

Taiwanese Release Date: N/A

Number of Cards in Wave: 91, +1 Hidden

37+1 Dino Cards, 27 Move Cards, 27 Super Move Cards

Number of New Cards: 4, +1 Hidden

3+1 Dino Cards, 0 Move Cards, 1 Super Move Card

Dino Card Rarity Breakdown:

Gold: 6
Silver: 5
Bronze: 5
Regular: 21
TBA: 1
Card List
Cards named in bold are new to this wave.
Hidden Card
Trivia
For the first time, the full ordered list of cards features cards not completely grouped by Dinosaur/Move/Super Move, the returning and new cards for this wave being added to the end of the previous wave's total list instead of having them placed at the ends of each appropriate group within the list.