Dinosaur King Figures were made by Playmates Toys (1:32) and Sega Toys. (1:15)
The Playmates Toys Figures were based on the Dinosaur King anime and were 1:32nd scale. At least one series of their release was alongside special versions of their TCG cards, an unnamed set labeled DKPM.
The Sega Toys Dinosaur King Figures Different from the Playmates Toys figures, were made from PVC and in a larger scale, more akin to regular Action-Figure in 1:15th scale, and were packaged with a tag attached with a Beaded Zip tie. and sometimes wrapped in a plastic bag.
Playmates Figures
Series 1:
3x Characters
21x Dinosaurs
Figure List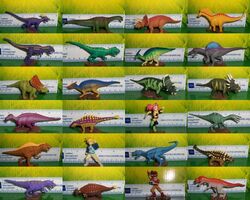 Sega Toys Series List
Series 1:
3x Unknown Dinosaurs
35x Dinosaurs
1x Alpha Dinosaurs
Series 2:
Series 1 Figure List
Series 2 Figure List
Trivia
The Playmates Saltasaurus alone among the dinosaurs in its toy set lacks a corresponding TCG card in DKPM, which only has 20 cards.