This is the ninth release of the English arcade game. Its cards are equivalent to the Japanese 2007 1st Edition and the Taiwanese Series 2 1st Edition. It was preceded by the Nemesis Edition and followed by the Series 2 2nd Edition.
Description
TBA
Specifications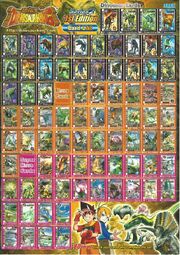 English Set Name: Series 2 1st Edition

English Release Date: TBA

Japanese Equivalent: 2007 1st Edition

Japanese Release Date: April 12, 2007

Taiwanese Equivalent: Series 2 1st Edition

Taiwanese Release Date: TBA

Number of Cards in Wave: 80, +1 Hidden

27+1 Dino Cards, 27 Move Cards, 26 Super Move Cards

Number of New Cards: 11

6 Dino Cards, 3 Move Cards, 2 Super Move Cards

Dino Card Rarity Breakdown:

Gold: 4
Silver: 4
Bronze: 4
Regular: 15
TBA: 1
Card List
Cards named in bold are new to this wave.
Hidden Card
| Card ID | Name | Card Type | Attribute | Rarity | Type |
| --- | --- | --- | --- | --- | --- |
| SP03-Dino | Deinonychus | Dinosaur | Secret | TBA | Crisis |