This is the sixth release of the English arcade game. Its cards are equivalent to the Japanese 6th Edition and the Taiwanese 4th Edition. It was preceded by the 4th Edition and followed by the 2008 Special Edition.
Description
The releases roll on! This wave features more returning Dinosaur Cards not seen since the 1st Edition, plus entirely new Dinosaur, Move, and Super Move Cards. Some Dinosaur Cards feature original artwork different from their Japanese counterparts, with the remainder being slightly re-positioned within the frame, and all images are full-color instead of two-tone like the Japanese wave.
Specifications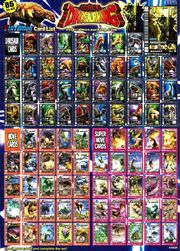 English Set Name: 5th Edition

English Release Date: 2008(?)

Japanese Equivalent: 5th Edition (some Dinosaur Cards use different art)

Japanese Release Date: 2006

Taiwanese Equivalent: 4th Edition

Taiwanese Release Date: TBA

Number of Cards in Wave: 86

38 Dino Cards, 24 Move Cards, 24 Super Move Cards

Number of New Cards: 9

4 Dino Cards, 3 Move Cards, 2 Super Move Cards

Dino Card Rarity Breakdown:

Gold: 4
Silver: 4
Bronze: 6
Regular: 24
Card List
Cards named in bold are new to this wave.
Hidden Card
Trivia
The artwork this wave is in full color instead of the element- or rarity-themed two-tone pattern the Japanese equivalent used, making it one of the single biggest departures in artwork of any adapted wave.

Additionally, several dinosaur card artworks were changed completely to original renderings, being one of the only times a card with an equivalent was changed between language versions into art not from another wave, not counting the 2008 Special Edition cards without 2006 Rainy Season Edition equivalents.