This is the third release of the English arcade game. Many of its cards are equivalent to the Japanese 4th Edition and all to the Taiwanese 2nd Edition. It was preceded by the 1st Edition V2 and followed by the 3rd Edition.
Description
The cards pile up! With a new round of Dinosaur, Move, and Super Move Cards, a new aspect is added: Types, giving different dinosaurs unique advantages in certain situations. All Dinosaur Cards also feature artwork not from the original Japanese wave, but from the wave before that…unless they were new in that wave, in which case the art is from a later wave instead, but only some of them, sometimes mirrored, unless—gah, this is a mess!
Specifications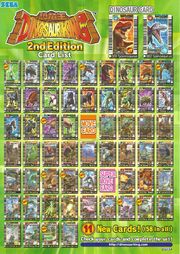 English Set Name: 2nd Edition

English Release Date: TBA

Japanese Equivalent: 4th Edition (Dinosaur Cards use different art)

Japanese Release Date: August 3, 2006

Taiwanese Equivalent: 2nd Edition

Taiwanese Release Date: TBA

Number of Cards in Wave: 58

24 Dino Cards, 18 Move Cards, 16 Super Move Cards

Number of New Cards: 11

4 Dino Cards, 3 Move Cards, 4 Super Move Cards

Dino Card Rarity Breakdown:

Gold: 4
Silver: 3
Bronze: 2
Regular: 15
Card List
Cards named in bold are new to this wave.