This is the second release of the English and Taiwanese arcade game. Many of its cards are equivalent to the Japanese Japanese 2nd Edition and Japanese 3rd Edition. It was followed by the English 2nd Edition and Taiwanese 2nd Edition.
Description
TBA
Specifications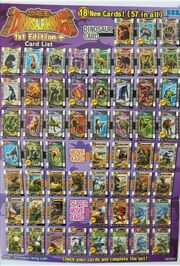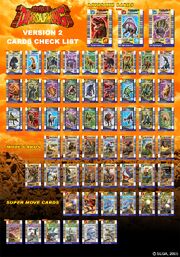 English Set Name:

1st Edition Version 2 (United Kingdom & Southeast Asia)
1st Edition+ / 1st Extension (United States)
English Release Date: 2005

Taiwanese Set Name: 第1紀擴張版
Japanese Equivalent: 2nd Edition & 3rd Edition

Japanese Release Date: 2006

Number of Cards in Wave: 57

18 Dino Cards, 15 Move Cards, 12 Super Move Cards

Number of New Cards: 16

11 Dino Cards, 0 Move Cards, 6 Super Move Cards

Dino Card Rarity Breakdown:

Gold: 4
Silver: 4
Bronze: 4
Regular: 18

Card Gallery (1st Edition V1 & V2)
Card List
Cards named in bold are new to this wave.
Trivia
Like the previous release, this release is actually also the second release for Taiwanese version, the first two waves of Taiwanese version did not have convert into Chinese.