This is the first release of the English and Taiwanese arcade game. Many of its cards are equivalent to the Japanese 1st Edition. It was followed by the English 1st Edition Version 2 (serving for Taiwanese as well).
Description
Dinosaur King reaches new shores! An English version of the arcade machines is released into the West, bringing with it everything from before. Oddly, though it would soon have its own translation, the English version was released for the Taiwanese series as well.
Specifications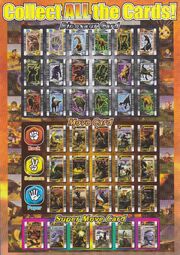 English Set Name: 1st Edition

English Release Date: 2005

Japanese Equivalent: 1st Edition (第1紀)

Japanese Release Date: August 2005

Number of Cards in Wave: 39

18 Dino Cards, 15 Move Cards, 6 Super Move Cards

Number of New Cards: 39

18 Dino Cards, 15 Move Cards, 6 Super Move Cards

Dino Card Rarity Breakdown:

Gold: 2
Silver: 2
Bronze: 2
Regular: 12

Card Gallery (1st Edition V1 & V2)
Card List
Cards named in bold are new to this wave.
Trivia
Like the Japanese equivalent, this release has unusual card code numbering that leaves gaps likely intended to be filled in with later releases; however, in the next release, at least some do expand on this spaced numbering format, the new cards fitting into some of the gaps.
This release is actually also the first release for the Taiwanese version, the first two waves of the Taiwanese version not having been translated into Chinese.