This is the eleventh release of the English arcade game. Its cards are equivalent to the Japanese 2007 3rd Edition and the Taiwanese New 3rd Edition. It was preceded by the Series 2 2nd Edition and followed by the Series 2 4th Edition.
Description
TBA
Specifications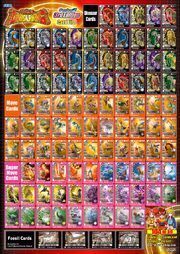 English Set Name: Series 2 3rd Edition

English Release Date: TBA

Japanese Equivalent: 2007 3rd Edition (2007年第3紀)

Japanese Release Date: October 18, 2007

Taiwanese Equivalent: New 3rd Edition

Taiwanese Release Date: TBA

Number of Cards in Wave: 104, +1 Hidden

104+1 Dino Cards, 32 Move Cards, 30 Super Move Cards

Number of New Cards: 12, +1 Hidden

6+1 Dino Cards, 3 Move Cards, 4 Super Move Cards

Dino Card Rarity Breakdown:

Gold: 8
Silver: 7
Bronze: 6
Regular: 21
TBA: 1
Card List
Cards named in bold are new to this wave.
Fossil Cards
Hidden Card
Trivia
Like the previous wave, the Anime Dinosaur cards (AN) aren't available in this wave.