Alpha Dilophosaurus is an altered form of Dilophosaurus created and controlled by the Alpha Gang.
Statistics
Arcade Stats
In the Japanese version, it was initially available as a limited exchange promo card like all Alpha Dinosaurs.
Japanese
English
Taiwanese
TCG Stats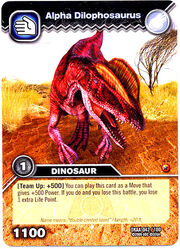 Species: Dilophosaurus
Attribute: Wind
Sign: Paper
Power: 1100
Level: 1
Life: 1
Card Code: DKAA-042/100
Card Rarity: Common
Image From: cropped Alpha Gang's Ambition/08 Special arcade card
[Team Up: +500]

You can play this card as a Move that gives +500 Power. If you do and you lose the battle, you lose 1 extra Life Point.
Trivia
Gallery