General Statistics
Edit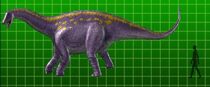 Name: Dicraeosaurus hansemanni
Name Meaning: Double-Headed Lizard
Diet: Herbivore
Length: 12-15 meters (40-50 feet)
Time Period: Late Jurassic
Classification: Diplodocoidea --> Dicraeosauridae
Place Found: Tanzania
Describer: Janensch, 1914
Dinosaur King Statistics
Edit
Arcade Stats
Edit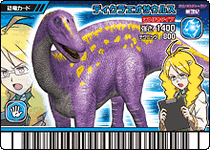 Attribute: Water
Sign: Paper
Strength: 1400
Technique: 800
Attack:

Paper (Critical): 700
Rock/Scissors: 400

Types:

Charge Type (Japanese 2007 series; English Series 2; Taiwanese New series)
Attack Type (Japanese Gekizan series)

Arcade Nickname:

Japanese: 恐竜貴族
English: The Walking Fortress
Taiwanese: 移動城寨
Japanese
English
Taiwanese

New 4th Edition (New; 041-龍; Charge Type)
New 5th Edition (041-龍; Charge Type)
TCG Stats
Edit
Dicraeosaurus
Edit
Attribute: Water
Sign: Paper
Power: 1300
Level: 3
Life: 2
Card Code: DKCG-019/160
Card Rarity: Silver Rare
[Bonus]

When this Dinosaur wins a battle, draw 1 card.
Swamp Dicraeosaurus
Edit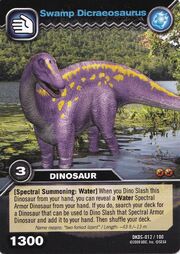 Attribute: Water
Sign: Paper
Power: 1300
Level: 3
Life: 2
Card Code: DKDS-012/100
Card Rarity: Common
Image From: cropped Geki 1st arcade card
Abilities:
[Spectral Summoning: Water]

When you Dino Slash this Dinosaur from your hand, you can reveal a Water Spectral Armor Dinosaur from your hand. If you do, search your deck for a Dinosaur that can be used to Dino Slash that Spectral Armor Dinosaur and add it to your hand. Then shuffle your deck.
Dr. Taylor's arcade comments:

Japanese: 首とせなかがもり上がって見えるのは、ほねが高くのびているためだ。体の大きな草食恐竜だ。
English: The large herbivore's neck and back look built-up because of its elongated bones.
Taiwanese: 脖子和背部看起來有隆起,是因為骨頭長得很長的關係,是個身體很大的草食恐龍。
Community content is available under
CC-BY-SA
unless otherwise noted.