As with many small coelurosaurs, more recent Deinonychus reconstructions portray it with a full feather coating as opposed to the feathered "headdress" Dinosaur King portrays.
General Statistics
Edit

Dinosaur King Statistics
Edit
Arcade Stats
Edit
Anime Stats
Edit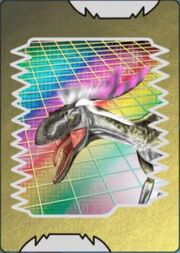 Move Cards
Edit
The Deinonychus form a chain by biting each others' tails, then the leader swings the others to smack the opponent in the face! Not a true Move, but an attack both trios use to begin an attack sequence chain.
The Deinonychus trio jump into the air and spin forward, becoming living buzz saw blades, then grind into the opponent! The second attack in the standard attack sequence.
The leader points the two sidekick Deinonychus to run forward, pushing rainbow Mach cones in front of them, before turning and crossing paths right through the opponent! When in sequence, this Move is typically used to finish opponents.
The Deinonychus launch themselves high into the air, then bring down a flaming meteor to crash in front of their opponent!
TCG Stats
Edit
[Breakthrough] Neither player can use the [Defender] special ability.
(This Dinosaur can use Super Moves of any Element. It must still meet any other requirements.)
Dinosaur King
Edit
Like his other Secret Dinosaurs, Dr. Z raised the Deinonychus trio he named Dino, Dano, and Sue at an unknown point during Dr. Ancient's mission, training them relentlessly to be ninja master dinosaurs. Like his other "trainees", they hated his guts for his treatment of them.
Their card was activated in a ninja village attraction in Japan where the D-Team were visiting in Ninja Nightmare!, hit by rainbow light glinting off of a stage performer's dagger. They ran amok, easily evading the D-Team before capturing the Alpha Trio and letting them both get lost in a ninja funhouse. Then Dr. Z confronted them, claiming he trained them harshly out of love and expected them to thank him. They attack him instead. Terry is summoned to fight them, but they launch a coordinated attack and easily defeat him with an unbroken chain of Whip Attack to disorient, Spinning Attack to weaken, and Crossing Attack to finish. When they tried to flee, the D-Team's dinosaurs were summoned to stop them: Paris used Metal Wing, the Pteranodon forcing them to stop, Ace used Ninja Attack to corral them closer, and finally Chomp defeated them with Lightning Strike. Their card was claimed by Max.
Several Deinonychus were seen running around during Max's dream in Metal Imbalance.
In Dinosaur War!, Max gave their card to Jonathan along with the other Secret Dinosaurs, who delivered them to the battle against the Black T-Rex, Rod summoning them. They used Spinning Attack in the Super Fusion Move that defeated the Black T-Rex after the third hit.
Mesozoic Meltdown
Edit
Shear summoned an unnamed second Deinonychus trio in The No-Fun Shogun to attack Foolscap's Megalosaurus when she had amnesia and was working with the Kunoichi. They avoided its Gigantic Fall before using the same attack chain as the first trio of Whip Attack (which it avoided), Spinning Attack (which it dodged two of the three of them), and Crossing Attack, this time from behind, which defeated it. They then attacked the D-Team, using Dynamic Galaxy on Ace, but he used his DinoTector form and defeated them with Sonic Blast. However, Shear reclaimed the card.
Two episodes later in There's No Business Like Shogun Business, they were summoned in their Spectral Armor form to fight DinoTector Chomp, Ace, and Hanzo for possession of the White Cosmos Stone. When the dinosaurs left, the Deinonychus helped Takeda's Kunoichi fight Hanzo, chasing him, but Ace used Ninja Attack, knocking the two sidekick Deinonychus away (never to be seen again), but the pack leader managed to knock the Cosmos Stone away from Hanzo for Shear to grab before Ace hit it into Shear (which eventually cured her amnesia), defeating it and destroying its Spectral Armor. Rex presumably reclaimed the card, though only the lead Deinonychus had been seen returning to it.
Some Deinonychus trio was briefly seen in Fate of the Cosmos running around in the Backlander's Mesozoic forest projection after Dr. Z rescued the dinosaurs from the Space Pirate Ship.
Community content is available under
CC-BY-SA
unless otherwise noted.