Defense Burst is a Normal Move Card. It is not to be confused with the similar Defense Boost.
Statistics
Arcade Stats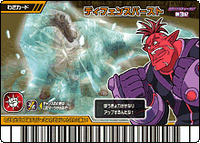 Attribute: Normal
Sign: Rock
Usage Condition: This Move activates when you win against your opponent's Critical Move.
Effect: Draw in energy to burst up and increase your defense, reducing the amount of damage you take from hits!
This card is only available in the Japanese version.
Anime Stats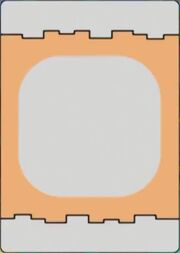 Trivia
In the arcade game, "Defense Boost" and "Defense Burst" are different cards, but the only difference is that Defense Burst is a stronger version that only activates if you win against your opponent's critical move.

The only true way to tell them apart is by looking at their Japanese names: the last character of "Defense Boost" looks like a curved "7" with a degree sign (°) attached to the top right corner; the third to last character of "Defense Burst" is a long dash (—).

This Move can only be used twice for a Dinosaur. This mechanic is similar to Attack Boost/Burst, Defense Boost, Leaellyn Cure, Technique Boost, and Elemental Power.
Gallery