Crimson Flame is a Fire Move Card. It was only available in Japanese arcade and is the Non-sign Move for Fire.
Statistics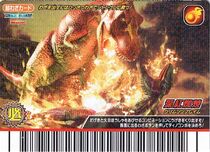 Japanese Kanji: 深紅燃焼 (Crimson Burning)
Sign: Critical
Usage Condition: This Move activates when you win with your dinosaur's Sign.
Effect: Hit your opponent with your tail, then press the two buttons shown onscreen to throw them into the air, pressing three more buttons to launch fireballs from your mouth at them! Finally, press four more buttons as they crash to stomp on them and burn them with a point-blank stream of fire from your mouth!
Other: This Move equips to the dinosaur's Critical Move slot. During its usage, it will end early if you don't press the right buttons in the right order.
It was only available in the Japanese version.
Trivia
Artwork from one of its arcade cards is seen on the TCG Move Card Tyrannical Charge (Kaku 4th).
Likely like the other Critical Sign Moves, it requires the player to hit two extra buttons at each prompt to properly execute the attack if used by a Super Dinosaur than a regular one.
Gallery
Videos