Counterattack Recovery (simply Recovery in the English arcade) is a Normal Move Card and was only included in the arcade game. This Move is not to be confused with the similar Cryolophosaurus-featuring Move Card Light Recovery.
Statistics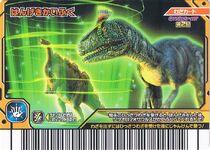 Names:

Japanese: はんげきかいふく
Taiwanese: 反擊回复

Attribute: Normal
Sign: Paper
Compatibility Tabs: 1-4 (okay), 5-6 (great)
Usage Condition: You have win after getting hit by your opponent's critical move to use this Move, and your Dinosaur should ideally have over 800 Technique.
Effect: Cryolophosaurus comes and heals you after you get hit with a strong critical move! It appears to heal by about 550 points.
Japanese
English
Taiwanese
Trivia
Gallery