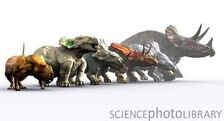 Ceratopsids were the biggest and most fearsome of the ceratopsians, or horned-faced dinosaurs. With their frills and horns being the only real differences between named species, many names may actually represent members of the same species varying by age and/or gender. It is divided into the long-frilled chasmosaurines and the short-frilled centrosaurines, with their pad-nosed pachyrhinosaurins.
Ceratopsids make up most of the Lightning Dinosaurs.
Community content is available under
CC-BY-SA
unless otherwise noted.