Centrosaurus and Kentrosaurus had a minor confusion where it was assumed they both had the same name, and they were given new names like "Eucentrosaurus" and "Kentrurosaurus"; however, as the spelling and pronunciation differed, they were not the same name and the renaming was unnecessary and reverted.
General Statistics

Dinosaur King Statistics
Arcade Stats
In Japanese arcade, Centrosaurus was first available as an exclusive & exchange arcade card in 2006.
DS Stats
TCG Stats
Centrosaurus
Related to the Styracosaurus, the Centrosaurus was an herbivore that probably traveled in herds.
Twilight Centrosaurus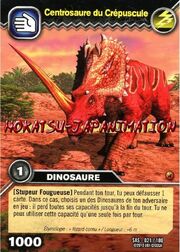 [Spirited Stun] During your turn, you can discard 1 card. If your do, choose a Dinosaur your opponent has in play: it loses all of its abilities until the end of your turn. You can only use this ability once per turn.
Trivia
Gallery